Wind Star – The Essence of Small Ship Sailing
With four wide-open teak decks and a gross tonnage of 5,307, this four-masted sailing vessel feels like your own private yacht—the perfect size for a shared adventure that connects you with others, free from crowds. All cozy staterooms have windows for an ocean view, queen or twin beds, sitting area, efficient closet space, minibar, flat-screen TV, L'Occitane toiletries, hair dryer, bathrobe, and slippers.
Dining Venues:
Windstar offers an open seating program allowing guests to dine when and with whom they like. Light and vegetarian cuisine available on request.
AmphorA: AmphorA Restaurant promotes a contemporary, international menu and fresh local dishes. The room features mirror panels with Murano glass, soft lighting, wall coverings, and art work.
Candles: A romantic setting offers alfresco dining with fine steaks and grilled skewers on the menu, where guests can dine under the stars.
Veranda: An inviting breakfast and lunch buffet with plentiful outdoor seating offers a variety of options including many local ingredients.
In-room: 24-hour room service menu for in-room dining is available.
Amenities:
Public Areas: Lounge, Casino, Pool Bar, Whirlpool, Reception, Signature Shop, Fitness Center, and Library.
Watersports: Complimentary water-skiing, wakeboarding, paddle boarding, windsurfing, kayaking, sailing, skitubing, and snorkeling gear.
WindSpa: Full-service salon and spa. Offerings include massages, body treatments, facials, manicures, pedicures, aromatherapy, haircuts, blow-outs, and highlights.
Open Bridge:
Windstar's Open Bridge experience invites guests to come into the Bridge when the yacht is at sea. Guests can talk with the Captain and officers on watch, view the navigational charts, and enjoy one of the best views on the yacht.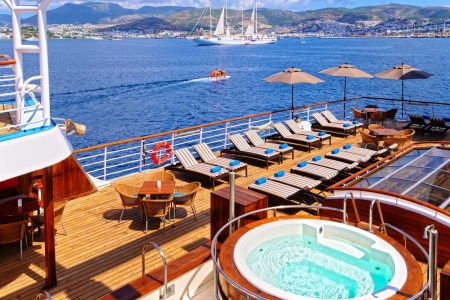 World Class Service:
The moment you board you'll feel it: an ever-attentive crew at your service, providing you with what you want and need, when you want and need it. Delighting in your smile. Taking pure pleasure in your contentment. The Windstar staff-to-guest ratio is 1:1.5, and it shows. It's why Windstar was named for Best Service last year in the Cruise Critic Cruisers' Choice Awards.
Zodiacs & Wet Landings – What to Expect:
During this cruise, the Wind Star will be anchored in new and different small bays on most days, and these remote ports do not have docks. Windstar utilizes Zodiacs, rugged inflatable boats designed to take guests safely to shore.  A wet landing consists of boarding a Zodiac from a floating dock on the yacht and riding it from the ship to the shore. Once you reach the beach, you will disembark directly in the water.  This is an active and mobile adventure, however, there is always plenty of assistance from the ship crew!  You will also always have the option to stay aboard the ship and enjoy the luxurious onboard amenities.