Jordan & Petra Pre-Tour
January 16–21, 2023
Join the Purdue President's Council for a five-night pre-tour package in Jordan. Thousands of years of history are yours to uncover as you wind your way through destinations brimming with archaeological wonders, mountainous landscapes, and ancient ruins. This insightful discovery will open your eyes to the magnificence of this not-to-miss country!
Package Inclusions:
Five nights luxury accommodations
Fairmont Amman Gold Rooms include afternoon tea, plus pre-dinner canapes and cocktails
Buffet breakfast daily, three lunches, and one dinner
Exploratory tour of Amman and its Citadel and Roman Theater
Visit Jerash to marvel at its Greco-Roman ruins
Full day exploring Petra, passing through the Siq to view the majestic Treasury
Explore Al Beidha, known as Little Petra, one of the oldest sites in the Middle East
4×4 Jeep excursion tour in the Wadi Rum desert with its almost supernatural atmosphere
Relax in the mineral-rich waters of the Dead Sea, the lowest place on earth at 1,300 feet below sea level
All sightseeing with experienced, English-speaking local guides and transportation
Roundtrip transfers between the airport and hotel with related luggage handling
Gratuities for local guides, drivers, and included meals
Flight from Amman to Cairo and all taxes
Assistance of pre-cruise staff
Fairmont Amman Hotel | 2 Nights | January 16–18, 2023
The Fairmont Amman is a 5-star luxury hotel with a prestigious address next to the Fifth Circle of Amman, centrally located within walking distance of the city's most affluent neighborhoods of Abdoun and the adjacent diplomatic area. Amenities include four restaurants, a coffee shop, bar, outdoor pool, gym, Moroccan hammam, and luxe spa.
Movenpick Petra Resort | 1 Night | January 18–19, 2023
Explore the magnificent Red Rose City of Petra from this 5-star hotel in the rolling hills of the captivating Rift Valley. Located a 10-minute drive from the historic site of Petra, amenities include two upscale restaurants, three bars including a rooftop garden, café, tea room, an outdoor pool, and an Arab wellness spa.
Mazayen Rum Camp | 1 Night | January 19–20, 2023
In the heart of Wadi Rum's majestic desert, the Mazayen Rum Camp offers serenity, high standard services, amenities, and a wide range of relaxing and adventurous recreational activities to choose from, including camel rides, buggy rides, hiking, and mountain climbing. The camp is equipped with a large reception tent with Wi-Fi along with a dining area where guests are offered a variety of freshly cooked meals.
Kempinski Ishtar Dead Sea | 1 Night | January 20–21, 2023
Situated on the edge of the Dead Sea, the 5-star Kempinski Hotel Ishtar is a brilliant ode to the hanging gardens of Babel, featuring a private sandy beach and a luxury spa that provides experiences infused with Dead Sea rich minerals. Other amenities include a large array of restaurants and bars, nine outdoor pools, and a fitness center.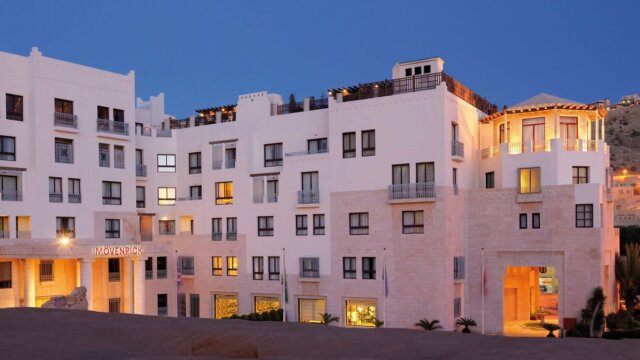 Pre-Tour Itinerary:
Monday, January 16, 2023 | Amman, Jordan

Welcome to the Hashemite Kingdom of Jordan, a country with outstanding ancient history, biblical sites of importance, and beautiful desert landscapes. The white stone city of Amman is the capital of Jordan and a good base from which to explore the destination's extraordinary heritage.
Upon arrival into Queen Alia International Airport, disembark your plane and walk down a short corridor where an airport representative is waiting to assist you with your entry visa, through immigration, and on to baggage reclaim. Your entry visa will have been arranged already, so please ensure you locate the representative (they will be holding a yellow sign with your name on it) before you reach the visa desks.
Once you have cleared these areas and your luggage arrives, you are taken through to the arrivals hall where you meet your driver and transfer to the Fairmont Amman Hotel.
Overnight at Fairmont Amman Hotel

Tuesday, January 17, 2023 | Amman, Jordan
Following breakfast at the hotel, meet our guide and driver in the hotel lobby to start the day in the capital city of Amman.
The Citadel which towers above the city from atop Jabal al-Qala'a is a good place to begin a tour of the city. The Citadel is the site of ancient Rabbath-Ammon, and excavations here have revealed numerous Roman, Byzantine, and early Islamic remains. The most impressive building of the Citadel, known simply as al-Qasr ("the Palace"), dates back to the Islamic Umayyad period. Its exact function is unclear, but it includes a monumental gateway, an audience hall, and four vaulted chambers. A colonnaded street also runs through the complex. To the north and northeast are the ruins of Umayyad palace grounds.
Downhill from the Citadel and a five minutes' walk east from downtown; the Roman Theatre is the most obvious and impressive relic of ancient Philadelphia. The theatre, which was built during the reign of Antonius Pius (138-161 CE), is cut into the northern side of a hill that once served as a necropolis-or graveyard. It is very similar in design to the amphitheater at Jerash and can accommodate 6,000 spectators. The theatre is still used periodically for sporting and cultural events.
Enjoy a group lunch at Al Reef Al Lebnani restaurant, an elegant dining option specializing in genuine middle eastern cuisine and offering a varied menu along with exceptional Arab hospitality and gastronomy.
Next, we travel to Jerash. Nestled in the hills of Gilead is the Greco-Roman city of Jerash, where archeological remains from Neolithic, Greek, Roman, Byzantine, and Umayyad eras have been found, amongst others. Jerash's golden age, however arrived with Roman rule. Today, Jerash is acknowledged as one of the best-preserved province cities of the Roman Empire. Jerash was also a member of the Decapolis, a dynamic commercial league of ten Greco-Roman cities which were grouped together because of their language, culture, location, and political status, with each functioning as an autonomous city-state.
Afterwards head back to the Fairmont Amman Hotel for the remainder of the evening and dinner at leisure.
Overnight at Fairmont Amman Hotel (B, L)
Wednesday, January 18, 2023 | Petra, Jordan

Following breakfast at the hotel, check out and meet our guide and driver in the hotel's lobby for a 3-hour drive to Petra.
Begin our visit with an optional horse ride from the main gate of Petra to the entrance of the old city. Then walk on foot along to the Siq (entrance). The ancient city of Petra was built between 800 BCE to 100 CE by Nabatean Arabs. In this era, Petra was a fortress, carved out of the jagged rocks in an area which was virtually inaccessible. In the first and second century, after the Romans invaded, the city reached the peak of its fame.
Petra covers an area of about 62 square miles, where over 800 monuments can be found. When shipping slowly displaced caravan routes, the city's importance gradually dwindled and it fell into disuse and was lost to the world until 1812, when it was re-discovered by the Swiss explorer Johann Ludwig Burkhart. Nowadays Petra is a popular tourist attraction, known as the "rose-red city half as old as time". The Khazneh (the Treasury), was featured in Indiana Jones and the Last Crusade.
A group lunch will be served at Al Basin Restaurant. Located near the gates of Petra, the Al Basin Restaurant by the Crowne Plaza Petra stands amongst all the splendor of Petra, making it a great place to stop and rest. Following lunch, we will check in to the Movenpick Petra Resort for rest and dinner on your own before a special night at Petra.
Tonight, experience the magical atmosphere of a candle-lit visit to the rose-red city of Petra. The special aura of the ancient Nabatean trading empire comes to life as you enjoy a stroll through the mysterious Siq of Petra. At Al- Khazneh (The Treasury), listen to music and stories and experience Petra just as the travel-weary traders of old must have known it.
Overnight Movenpick Petra Resort (B, L)
Thursday, January 20, 2023 | Wadi Rum, Jordan / Dead Sea
After breakfast at the hotel, check out and meet our guide and driver to set out for Little Petra.
Al Beidha, as Little Petra is also known, is hidden away in the center of a mountain just north of Petra. This miniature version of Petra contains a number of notable tombs as well as a collection of stairs leading up to higher viewpoints. Like Petra, it is believed the site here dates back to the first century and features some well-preserved structures. Archeologists believe this to have been a suburb of the larger city, perhaps where merchants lived.
Afterwards, drive 2 hours to Wadi Rum. Otherwise known as Valley of the Moon, Wadi Rum is the largest – and most magnificent – of Jordan's desert landscapes and has been virtually untouched by humans. A maze of monolithic rock formations rises up from the desert floor to heights of over 5,700 feet, creating a natural challenge for serious mountaineers. However, Wadi Rum may be best known for its connection with British officer T. E. Lawrence, who passed through several times during the Arab Revolt of 1917–18.
Following a group lunch at our camp for the evening, enjoy a 4×4 tour inside Wadi Rum desert, a timeless place, virtually untouched by humanity. Ride past wind-carved towering rocks, canyons, and 4,000-year-old rock drawings.
End our excursion at the Mazayen Rum Camp where we will have dinner and an overnight stay.
Overnight Mazayen Rum Camp (B, L, D)
Friday, January 20, 2023 | Wadi Rum, Jordan / Dead Sea
After breakfast at the hotel, we depart on a 4-hour drive to the Dead Sea – at 1,300 feet below sea level the Dead Sea is infinite in what it has to offer. Ever since the days of Herod the Great, people have flocked to the Dead Sea in search of its curative secrets. Due to high annual temperatures, low humidity, and high atmospheric pressure, the air is extremely exogenous, and the high content of oxygen and magnesium in the air make breathing a lot easier. With the highest content of minerals and salts in the world, the Dead Sea water possesses anti-inflammatory properties, and the dark mud found on the shores have been used for over 2,000 years for therapeutic purposes.
Check in to the Kempinski Ishtar Dead Sea where the remainder of the day, lunch, and dinner is at leisure.
Overnight Kempinski Ishtar Dead Sea (B)
Saturday, January 21 2023 | Dead Sea / Depart Amman, Jordan / Fly to Cairo, Egypt
Today, we check out of our hotel and transfer to the Queen Alia International Airport for our included group flight from Amman to Cairo. Upon arrival we will be greeted by a Uniworld representative and transfer to the Four Seasons Hotel Cairo to begin on our Splendors of Egypt & the Nile program.
(B)
Optional Pre-Tour Package Price
$2,975 per person, double occupancy (Waitlist Only)
$3,825 per single (Waitlist Only)
Additional nights at the Fairmont Amman Hotel
Inclusions: Package includes accommodation at the Fairmont Amman Hotel in a Fairmont Gold Room with Fairmont Gold lounge access with private check-in, breakfast, afternoon tea, evening canapes, free WiFi; inclusive of service charges and taxes, airport arrival transfer, and porterage. Please note the airport arrival transfers are only included if the hotel package is confirmed with Global Tracks.
Price: $390 per night per couple or $360 single
Deposit: $350 per person
Final Payment Due: September 14, 2022
| | |
| --- | --- |
| Cancellation & Penalty Schedule | Penalty Applicable |
| From time of deposit until September 14, 2022 | 50% of total package penalty |
| After September 14, 2022 | 100% of total package penalty |